---
Woods used
Back, sides, fretboard, head: black walnut
Top: black walnut
Fretboard veneer, head veneer: purpleheart
More information about wood can be found here.

String setup
Five strings, .012, .015, .024RW, .032RW, .054RW
Standard/Bass hybrid: DADAD tuning
Dimensions
VSL (scale length): 25" (more information about VSL)
Fretboard width: 2 1/4"
Side height: 2 1/4"
Body: 30" x 8 1/2" x 2 1/2"
Overall: 37 1/2" x 8 1/2" x 3 1/4"
This dulcimer has our California-style body.

Nut, bridge, frets
Diatonic, plus 1.5, 6.5, 8.5, 13.5, and 15.5 frets (more information about frets)
Micarta nut and bridge material
Nickel-silver fret wire, jumbo size
Mother of pearl position dots at frets 3, 7 (double), 10, 14 (double), and 17
Features
Radiused fretboard (10 inch radius)
Traditional flat head
Enclosed gear tuners, black finish
Also included
Strap buttons
Padded case with shoulder strap
Luthier
Richard Ash

Why should you choose a Folkcraft mountain dulcimer? Sound quality, appearance, and durability. We've been handcrafting mountain dulcimers since 1968, and many of the world's finest players, both amateur and professional, choose our hourglass lap dulcimers. Click here to see our roster of endorsing artists. You may also enjoy following the links provided to see each of them performing (with their Folkcraft dulcimers) on YouTube.
Are you ready to play this hourglass lap dulcimer? Click the "Add To Cart" button below, and we'll ship the dulcimer right away with free UPS shipping. Questions? Call Folkcraft (weekdays 8 AM to 4 PM, Eastern time) at (317) 539-1855. Maybe this instrument isn't perfect for you? Design your own mountain dulcimer, from classic to exotic, with our "design your own" tools found here.
Custom Dulcimer
This is an amazing instrument. Beautiful. Such a warm and rich sound. I couldn't be more pleased. Amazing craftsmanship. The Folkcraft crew were amazing to work with. So patient. Made of East Indian rosewood, wr cedar, maple, gabon ebony veneer, Galax back, fishman problend pickup.
Purple Heaven
My new Purpleheart mountain dulcimer is such a beautiful instrument with an amazingly rich tone. Even though I'm a beginner, my fingers glide over the strings effortlessly. I know I'll enjoy playing it for years to come.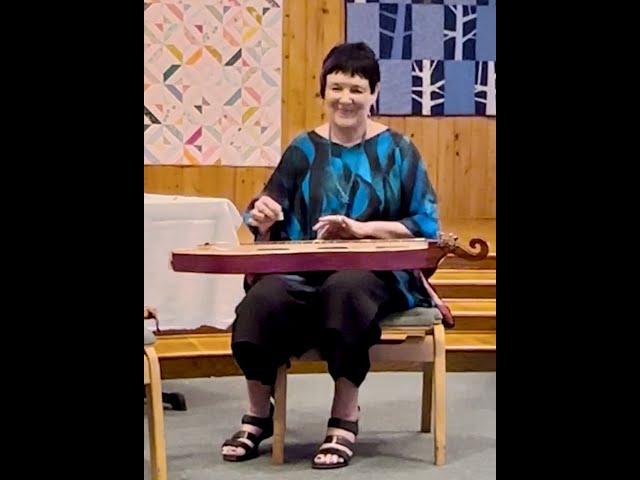 Fishman Pro Blend Pickup
I picked up my Folkcraft Custom dulcimer today, that Richard added a Fishman Pro Blend pickup to. I love it! It sounds great, is easy to use, and is just fun to have. I have 2 Roland amps that can use with my dulcimer. If you're contemplating a Fishman pickup, give it some serious thought.
I love my dulcimer
My Folkcraft dulcimer not only sounds absolutely beautiful but is also just gorgeous to behold. I'm not a great player as yet, though I will say that I've never heard "Oh Susanna" sound quite so amazing in my entire life. I am 100% thrilled with it and look forward to getting better and better with this exquisite instrument on my lap.
Folkcraft® Custom Series Dulcimer, Walnut Body/Spruce Top.
I've been playing mountain dulcimer for a few years but still very much a beginner. This dulcimer is perfect for me, my hands and my abilities yet one I believe will allow me to progress as a player. Thanks Richard for your time and recommendations when I was at the shop! The tone is amazing.